Awake that (bathroom) singer in you-  Top 8 places where you can Karaoke in Delhi!
We believe Karaoke nights are the best nights and Karaoke people are the best people. So if you are reading this post, it surely tells us about your interest in karaoke, so we are now going to tell you ten fun places to visit in Delhi if you are a Karaoke fan, so eat, enjoy and Karaoke.
Turquiose Cottage:
This is one of the most happening places in Delhi where you can eat amazing food while you sing your favourite song. The Karaoke night is hosted every Sunday from 8 PM. However, it is important to make reservations there beforehand because the place is too popular to be empty.
Address: MA 03, Restaurant block, DLF Place, Saket Mall, New Delhi.
Escape-
Terrace Bar and Kitchen: The terrace set up just makes it all more worthwile. You can enjoy exotic food here with a great company and on top of that you can Karaoke. The Karaoke night here is named as 'The Brighter side of Monday.'
Address: R 2, Level 2, Galleria Market ( Above Citibank ATM), DLF phase 4, Gurgaon.
Harry's Karaoke Lounge bar:
This place is claimed to be the first place in Delhi, which is a bar and is dedicated to Karaoke. The ambience is amazing, plus, you get to order Mediterranean cuisines. The karaoke starts every night from 8:30 PM.
Address: c-305 &306, Ansal Plaza, Khel Gaon Marg, Hudco place, 3rd Floor, New Delhi
Raasta:
This is an amazing place. You must visit it if you are a Bob Marley fan. The music is very soothing. The Karaoke nights are on Tuesdays.
Address: 30 A, First Floor, Hauz Khas, New Delhi.
Zu Tisch: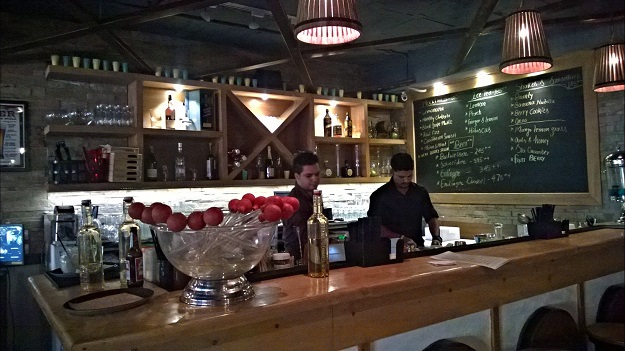 Now this is one of the amazing place and have been highly recommended by food lovers all over. Plus, it also has another feather in the cap, this place hosted the Karaoke World championship trials.
Address: 2nd Floor, M 18, M block Market, Greater Kailash (GK) 1, New Delhi.
Fork you:
This place is situated in Hauz Khas and is a favourite amongst youngsters for its quirky name. It is a great place to sit in and enjoy delicious meals. We personally love the warm ambience this place has but Friday night is the time one should really visit here because of the Karaoke night.
Address: 30, first floor, Hauz Khas Village, New Delhi.
Garage Inc: source: 
It is a place based on Garage theme. The food is pretty good and the best part about it is the fact that you can just go to the Karaoke stage and make the audience whistle and clap for you. The Karaoke nights begin at 9 PM only on Thursday and Saturday.
Address: 30, 2nd Floor, Powerhouse Building, Hauz Khas Village, New Delhi.
My bar grill:
Now this one is a personal favourite. It should be visited when you are low in cash. The music is amazing and Karaoke starts on Wednesdays 8 PM onwards.
Address: 28, 3rd floor, Hauz Khas Village, New Delhi.