Know It All In 30 Seconds
Delhi is the gem of our country. A city full of life, people, places, and food, making it a perfect pack. Whether it is about the history, demography, taste, or religion, we can find our city best in every way and that's why here we are showing the top 10 places you should visit in Delhi to help all those wanderers around!
1. Red Fort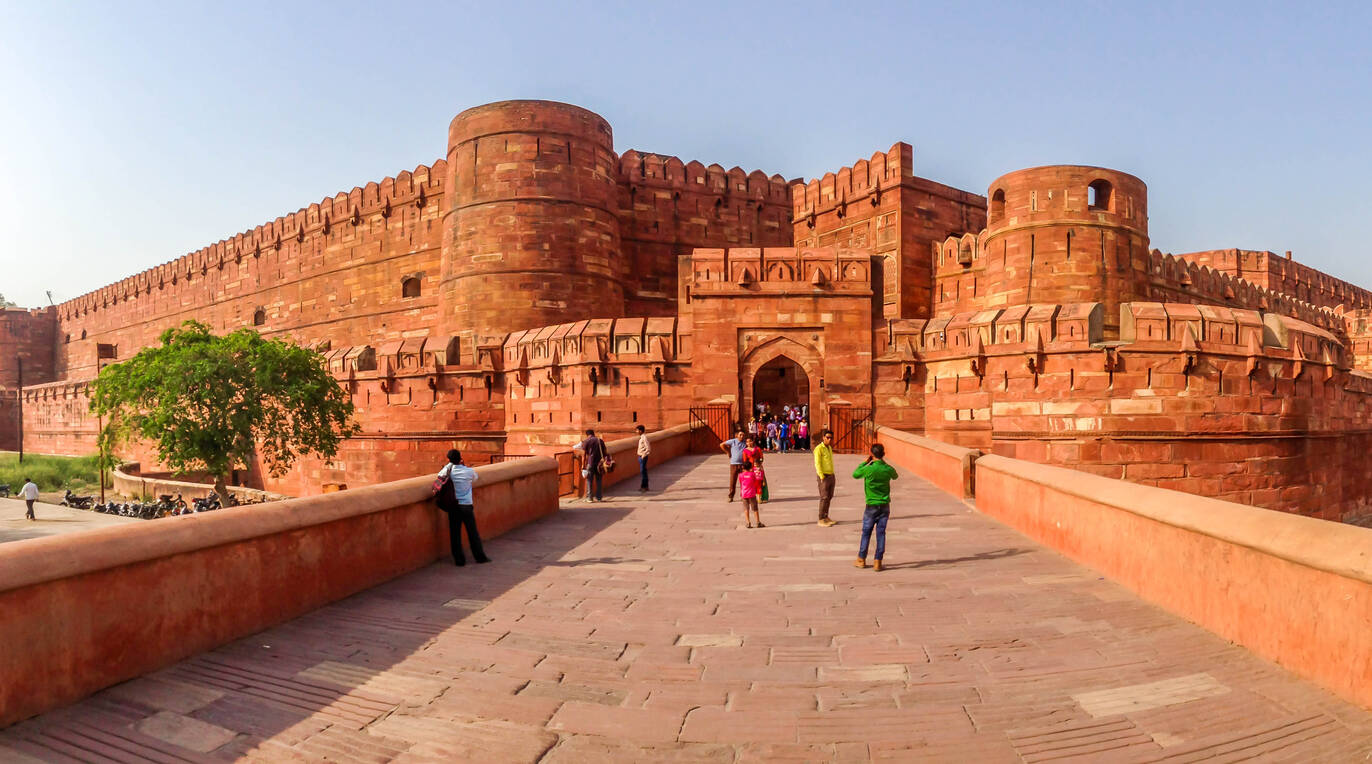 Red Fort or Lal Quila is an exceptional beauty made by the Mughal Empire back in 1546 and still remains standstill to amaze people out there. Witness it to experience the beauty of our city's history.
Where | Netaji Subhash Marg, Chandni Chowk
2. Jama Masjid
Standing tall in the middle of the busy streets of Chandni Chowk, this place is covered with boundaries having some great old shops which makes it a perfect place to visit!
Where | Chandni Chowk
3. Qutub Minar
Standing tall this 70-meter long pillar is now a UNESCO World Heritage. Qutub Minar was once said that it was so tall that people could see the Taj Mahal from its top floor! Fascinating!
Where | Mehrauli
4. Gurudwara Bangla Sahib
This Gurudwara was made in the 18th century and still remains the biggest place for Sikhs to worship in the city. The beauty of its gold plated dome and Sarovar in the heart make this place a must-visit.
Where | Connaught Place
5. Swaminarayan Akshardham Temple
This place is rich in carvings of elephants, plants. Gods, dancers, and musicians. The temple includes nine domes, being the biggest one having around 3000 tons of an elephant sculpture and the temple has been spread over 83,000 sq. meters of area.
Where | NOIDA Mor
6. Humayun's Tomb
Built-in 1565, this one was a great example of Mughal architecture which was highly influenced by Persia. We Delhiites call it 'Delhi's Taj Mahal' and it never disappoints to amaze us!
Where | Mathura Road
7. Old Fort
This archeological park which is spread over 200 acres of land is often overlooked and ignored in front of the red fort and other places, but this one tells the story of even the 3rd century as many artifacts have been found which depicts the same! One must visit this place to get a calm serene.
Where | Mathura Road
8. Lodhi Gardens
This garden was once made by the Britishers in something around 1936, covering some old tombs which were from around the 15th or 16th century! People often come here to walk, jog, picnic, or just sit idle and look at the beauty of nature!
Where | Lodhi Road
9. Bahai Temple
Bahai temple, which is also commonly known as Lotus Temple, is known as such just because of its shape. This temple resembles the people of Bahai faith which proclaims the unity of people of all religions. Anyone can come here and watch this beauty when it lits up in the night!
Where | Nehru Place
10. India Gate
Standing straight in Central Delhi covered by large greenery where people can walk, jog, cycle along, is a war memorial on which the name of all the soldiers who lost their lives in World War I while fighting for Britishers is written!
Where | Rajpath
Bottom Line
Your go-to-list of a trip to Delhi is now sorted!