We all love denim. They're versatile, never run out of fashion and are a part of everyone's wardrobe. What is even better than denim is, well, affordable denim. Well, sure you can say that two pairs of denim jeans are more than enough and that the older the better. But let's be honest, when we come across a good fitting pair of jeans, it's tough to say no. There's ALWAYS another pair of jeans that'll fit you even better. Don't you think so?
Cause we sure do!
Hence, owing to our undying love for denim, here's a list of 5 Places in Delhi To Score Affordable Denim Jeans in Delhi NCR:
Sarojini Nagar
What to expect?
Our beloved shopping destination. Sarojini Nagar is the prime place for thrift shopping. An export surplus market, where you're bound to find products of both international as well as local brands. If you've been there, you know what it's like.
What do we like about Sarojini Nagar?
You'll find many shops that will cater to your denim demands. If you're lucky you can run into jeans from brands such as Levis, Lee, Wrangler, ONLY and the like. Of course, there's a task of skimming through heaps of options. However, the shopkeepers are up to date with the on-going trends and can really help you out.
Google Maps | Click Here
Mohan Singh Place
What to expect?
Unable to find perfectly fitting jeans? Well, we feel you. It is indeed a task to find jeans that fit you well. However, Mohan Singh Place in Connaught Place solves that issue for you. They give you tailor-made jeans that will surely fit you like a glove.
What do we like about Mohan Singh Place?
Needless to say, personalised jeans at affordable prices is something you'd definitely want to go for! All you have to do is just choose a fabric and give them the design and they'll make it for you!
Google Maps | Click Here
Himachal Bhawan
What to expect?
Right around the Mandi House metro station, this place is your one-stop shop for scoring branded jeans. Although most of the jeans you'll find here would be from old stocks. So, if you don't mind that, you can very well get some really nice pairs at dirt cheap prices!
What do we like about Himachal Bhawan?
Score brands like Nike, Zara, Pepe Jeans, Puma and Tommy Hilfiger at extremely discounted prices!
Google Maps | Click Here
Tank Road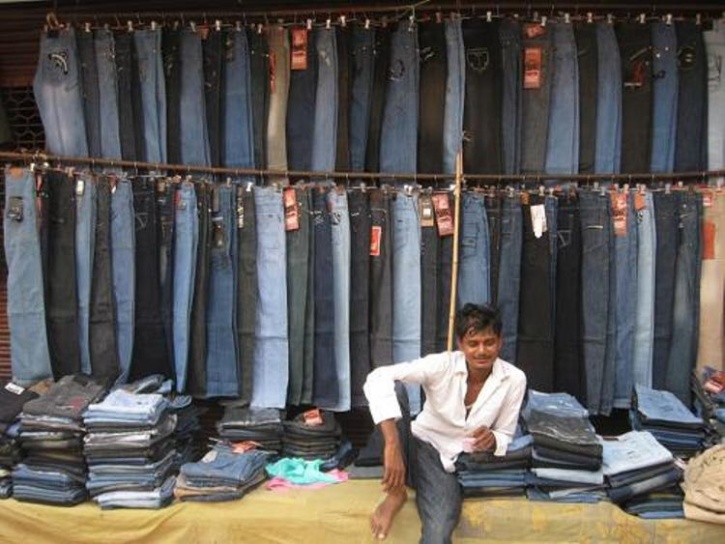 What to expect?
Known as one of Asia's biggest wholesale markets, Tank Road is the cheapest jean market. You can find an array of shops JUST selling jeans! However, being big on wholesale business, one has to really skim through the many shops as there's only a few that sell you in retail. But we assure you, you'll find many that do.
What do we like about Tank Road?
They cater to both men's and women's fashion and you'll find some shops selling denim jeans starting from just 200 bucks! You can rest assured you'll get great quality denim at really cheap rates.
Google Maps | Click Here
Lajpat Nagar
 What to expect?
Last but not the least, the Central Market of Lajpat has a plethora of stores, roadside vendors as well as showrooms that cater to a variety of products. Although most of them usually deal in similar types of products, and even the quality of what's being retailed is almost the same.
What do we like about Lajpat Nagar?
So, since we're talking about denim, Lajpat has many jeans retailers and some of them also tailor jeans for the customers. Needless to say, at really affordable prices. Some of them also sell branded denim at discounted rates, although some shopkeepers aren't too big on bargaining much. Most of these shops may have fixed rates for their products.
Google Maps | Click Here
Bottom Line
Be it branded or tailor-made, each of these places is one of the prime locations in Delhi where you can score some really affordable denim!
Check out Punjabi Bagh's new restaurant that is pleasing to the eye as well as your tummy!